Alex & Grace Hernandez, Long Beach
Thank you Team Warren for making our dream reality. We love our new home. Team Warren treated us like family and made our first home buying experience memorable.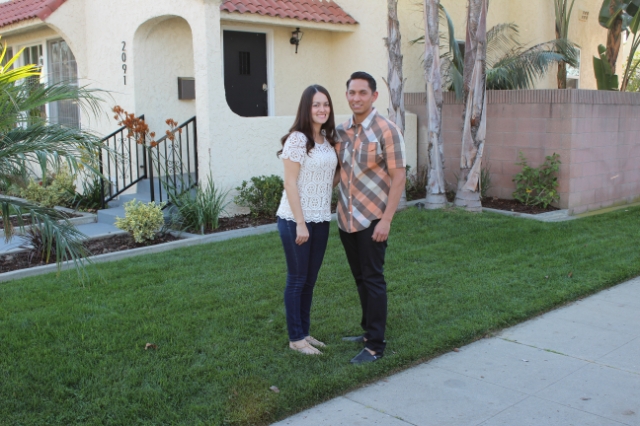 ---
Trevor Lai, Long Beach
---
Daniel Prepas, Aliso Viejo
"As an attorney who deals with significant real estate issues (wrongful foreclosures, short sales, non-disclosure, contracts), I know pretty quick if someone else knows there stuff and how to solve problems. Hudson was not only extremely easy to work with, but he REALLY knows his stuff. I would hire him again in a heartbeat because of how good he is. Thank you Hudson for your professionalism and expertise!"
---
Brian Bosch & Ryan Murphy, Santa Ana
We could not have sold our house and found a wonderful new one without Team Warren! During both the selling and buying process, they were an amazing resource to help guide the way. They knew what questions to ask, what procedures to follow, and how to make the process easy for us. We never had to worry that the job wouldn't get done and knew they had our best interests in mind. They knew how to handle any issue that arose and helped take the burden off of our shoulders. We could not have made it through this experience without Team Warren. They were not only our realtors but became friends. I would recommend them to any potential buyer or seller without hesitation.

---
Josh & Katie Wiggins, Long Beach
We had a particularly difficult situation. We needed our dream home, and we needed it fast. Team warren jumped right in and showed us a ton of great houses, and eventually found us the perfect home for us, right price, right size, in the neighborhood we wanted within a couple weeks! We were amazed. Our purchase was smooth and the team was incredibly efficient and hard working. Most of all, we really felt we could trust them with the single biggest purchase of our lives. I highly recommend them to anyone looking to purchase a home.
---
Joe & Anna Martinez, Huntington Beach
Team Warren did a great job helping my husband and I buy the house of our dreams and sell our old one. They were knowledgeable of the area and were always helpful, and energetic, with a positive attitude toward the experience.
---
Steve Peterson, Los Angeles
Dan was exceptional in handling my first home purchase. From our first professional meeting to the day when he handed me the keys to my new house, I always felt like I was in good hands. Dan provided insight on what I could expect in terms of house hunting, inspection, and the escrow process, and satisfied many of my concerns with little or no delay. I'm very glad that I picked Dan to help me through this life changing milestone, and would recommend him to anybody who is a prospective home buyer. Thanks, Dan!

Steve Peterson

---
Dave & Tina Powers, Alta Loma
Wanted to let you know how pleased Tina and I were with your team's professional approach to our short sale. The level of experience you have expedited the sale and closing within 45 days which is remarkable. I am in the mortgage industry and have done many transactions with Realtors in my community and it's very rare they handle short sales with ease and a smooth closing as your team provided to Tina and I.
I will refer any client to you and will endorse your service highly. As a matter of fact I had a possible seller who I explained how professional and smooth you handled our sale I recommended you both highly. He wanted to use his contact. I will keep you in mind for all future transactions that need a great Team at Keller Williams, Team Warren.
---
Matt Christopherson & John Kettnich, Long Beach
Shortly after meeting our first realtor he insulted me on the first house, then other houses we found out he never set up any appointments and didn't have codes/keys to show us the homes. Thankfully we approached Hudson Warren and I knew instantly after meeting with him he would be our choice of realtor. I can't believe how incredible he was and being so patient with our first experience in buying a home. He walked us though each step, showed us all our options and made us feel comfortable with ever choice we made. We are so glad we got to work with Hudson and we feel 100% confident in working with him again. Thank you for giving us not only a home but a new place to make memories in :)
---
Lynelle Lund, 29 Palms
I decided to buy a home in early 2012 and my target area was the CA high desert near where I was to be stationed in 29 Palms . I needed a realtor to help me get started with the process while I was training on the East Coast. Although the city I was moving to was outside his selling area, Hudson jumped in away, hooking me up with a broker and maintaining contact with me during the entire funding process. Hudson even drove 2.5 hours just to guide me through the available homes in my area - something I could have done myself to spare him the trouble, but was much more fun and informative with Hudson along for the ride.

In total, I found Hudson to be very professional, thorough and engaging. I would absolutely recommend his services to anyone in need of a good realtor. In fact, I'll be probably be using Hudson again one day when I'm assigned to a new duty station.

Lynelle S. Lund

---
Scott Wilzbach & Laurel Young, Costa Mesa
We were both first time homebuyers, and Team Warren made what could have been a scary and confusing process as easy as possible. Hudson and Debbe worked with our availability to show us potentials and were very patient with us as we figured out what we wanted. Hudson was always quick to respond to our many questions along the way, and set us up with a lender who was equally helpful. Even when we experienced some unexpected bumps in our escrow, Hudson remained positive and diligent throughout the process and we were always confident that he was doing all he could to close the sale. In the end, we closed on a wonderful home that we couldn't be happier with, and I would tell any of my friends and family that they couldn't be in better hands when buying or selling a home.

---
Kellie & Tim Playter, Lakewood
---
Tom Mellor, Long Beach
I recently had Hudson Warren from Team Warren sell my condo. Hudson and everyone at Team Warren were great, very professional and great at what they do. Hudson was able to get me $16,500 more than my place appraised for. I am looking forward to working with Hudson and Team Warren in the near future to buy another place. Thanks again.

Tom Mellor

---
Samson & Heather Lancaster, Huntington Beach
---
Nancy & John Karmelich, Rossmoor
This is a note to thank you for your professional expertise as our Realtor. We could not have picked anyone better to handle our transaction of buying our home. You acted promptly, courteously, and you returned our calls and questions in a prompt manner. Your follow-up after our home was purchased was a personal touch that we appreciated also. We will be recommending you to our friends and relatives because of your continued support with our home prior to the purchase, during the purchase, and after the purchase.
---
MJ & Jesse Cooper, Wildomar
Hudson was extremely helpful and patient through the many changes of home type, target area and price. He provided sound advice and support and within a short time managed to find us the perfect home. We are very happy with our new home and greatly appreciate all that Hudson did to secure it for us.

---
Matt & Amy Stevens, Lake Forest
My husband and I were both first-time homebuyers who were prepared to look as long as it took. Well, with Team Warren, it only took a few weeks of looking before we found "the one!" Hudson never pressured us and took us to every property we asked to see. He let us drive the search, which was really important to us. We had a pretty long list of must-haves (including no HOA, which we knew would be tricky) but Hudson never tried to get us to change that list and never showed property outside of our price range. We were provided quick comps when we were ready to place an offer and, thanks to Hudson's support, we beat out several other potential buys for a home that fits all of our must-haves and even our nice-to-haves. Also, shortly after being referred to Team Warren, my husband and I were facing some unique funding issues and thought all hope was lost, but Hudson recommended the best lender ever and we were able to meet the demands of a short escrow! We could not be happier and have already referred friends to Team Warren.

---
Mauricia & Keith Martinez, Lakewood
"After working with another realtor for several months we were feeling let down from the lack of support, effort, and communication. We were referred by a friend to Team Warren who ended up being exactly what we were looking for. They were accommodating and flexible. They listened to us and were patient. They walked us through every step during the stressful process of purchasing our first home. We couldn't be happier with our new home and in the end we closed a business deal but opened the door to a new friendship. Thanks Team Warren!" -Mr. and Mrs. Martinez
---
David Petlin & Tyler Haugen, Corona
Hudson Warren provided us with the most professional, efficient, and supportive real estate experience – hands down! With relocation for work looming and the need to sell our home quickly, Hudson immediately jumped in and aided us throughout the home selling process. Most impressive was Hudson's ability to help us sell our home even when we had moved to another city! This took very focused, proactive, and deliberate communication which Hudson managed flawlessly.
Another enduring quality that Hudson demonstrated was his direct and honest feedback. Hudson's feedback and direct approach made us feel connected and informed throughout the process and there were never any surprises.
The sale of any home is never a simple process, yet Hudson made us feel comfortable and stress free along the way. The care for us as his clients helped to keep our sanity and made for a positive selling experience. If you are looking for an agent that will always put your needs first, act with the utmost professionalism, and be your advocate – Hudson is perfect for you!
---
Thomas Barnes, Stanton
A job change in 2008 compelled me to move from my Orange County condominium, and I asked Hudson to sell my property. Unfortunately, the simultaneous collapse of the housing market made this an especially difficult time to sell. Hudson tried several tactics, but we received no offers that came near what I paid for it nor what I still owed the bank. I decided to hang on to the unit for awhile in the hope the market would eventually improve, and Hudson helped me rent it out. Three years later, with housing prices still in decline and no uptick in sight, I asked him to initiate a short sale.
He warned me it would be an arduous process, however I could not have imagined the aggravation to come. The banks and government agencies involved dragged their feet and made frequent errors — including misplacing my file multiple times. But Hudson was endlessly diligent, keeping on top of things to make sure my sale didn't get lost in the bureaucracy. When I became discouraged at the setbacks (and there were many!), he remained upbeat and assured me we'd get it done. Hudson was there at every step of the way, explaining what was happening and the best ways to work within the system to get results. And finally, a full year after we started, the short sale was complete.
I am currently not in the market to buy property, but I would immediately engage Hudson if I were. His positive attitude, persistence and knowledge of the ins and outs of the real estate world are a terrific asset for his clients.
---
Bill & Rita Wilke, Long Beach
It was shortly after my mother passed away in 2010 that we came to the decision to sell the house my grandfather built in 1939 and lived in for over thirty years. It was the family home and held many memories. After looking for a realtor to help us with the sale we came to Hudson Warren of "Team Warren" with Keller Williams Realty. A friend recommended them. The recommendation grew into a working relationship of novice seller and practical experience of realtor. With patience and guidance we were able to let go of past memories and turn the home to a new owner. The year 2011 was dominated by the sale of the house and "Team Warren" made it an easy task not just with the sale but moving on.
Thanks to Hudson Warren
---
Jon & Maribel Lackey, Lakewood
Last year Hudson and Debbie helped us in finding our first home. We first met Hudson in 2010 and since then he was available for help and guidance as we got ready to begin the house hunt. He was never pushy, like some other realtors we'd talked to, and was supportive in moving at a pace that we ware comfortable with. Once we began looking, he provided us with all of the information we needed, guided us through the process and we are now the proud owners of a beautiful home that is exactly what we were looking for. I would highly recommend for anyone to work with such a great team and we look forward to working with them again in the future.

---
Nathan & Amy Brodnax, Huntington Beach
Our recent experience with Hudson Warren has been in the selling of our home and the purchase of a new one and it has been nothing short of spectacular. Prior to Hudson's involvement, our home was on the market with another Realtor for 10 months without any sign of an offer. Making the switch to Hudson was the best decision we ever made! Hudson had our house on the market for 2 months and it was sold. He was then faced with the task of finding us the house of our dreams in one weekend so we could be out of our house on time. Hudson came through again! Our new home was not only found quickly but it was actually more than we could have ever dreamed of at an amazing price.

Even after both deals were done, Hudson continued to follow up with us to make sure that the moving went smoothly and that we had all the resources we needed.

My husband and I found Hudson to be professional, polite, accommodating, flexible and extremely easy to work with. We are both very busy people with full time jobs and two small children. It felt like Hudson was constantly looking for ways to make everything easier on us. He genuinely wanted to take as many things off our plate as he could. He made a terribly stressful life event so much easier for us and we will forever be grateful.

We refer Hudson to everyone we come across who is looking for a real estate agent and if there comes a time when we need a real estate agent again, there is no one else we would call. He is truly the best!

---
Greg Furtado & Adam Smith, Long Beach
Hudson did a fantastic job helping us find our first home. We looked at nearly 40 houses, put in multiple offers and counter-offers and, at the very end, had to deal with an obstinate seller. Hudson kept the process moving along as smoothly as possible and guided us through it all with amazing professionalism, kindness and generosity. We highly recommend Hudson for all of your real estate needs.
---
Richard Barber, Orange
My name is Richard Barber. I had the pleasure of working with Hudson Warren this past summer. I was anxious to sell my condo hurriedly since I had a new home waiting in Florida. Hudson was responsible for taking photos and listing my condo in MLS. Amazingly, my condo was under contract in only 2 weeks......and at the full asking price. Hudson took care of all the details and we closed promptly. I know that any prospects will find a professional, diligent, hard working young man in Hudson Warren. I sincerely recommend him.

---
Mary Ellen Costello, Cypress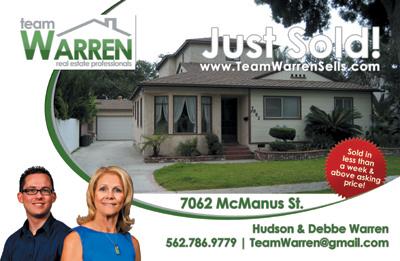 In 2007 I was very interested in buying a condo. Hudson Warren at Keller Willams became my realtor . As a first time buyer, I was very nervous and unsure of the whole process. Hudson made the process very smooth and easy for me. He knew what type of condo I was interested in and he searched until we found a place that I really liked. He was always on top of things informing me of what was going on. He has great follow through. I am very pleased with the condo I have purchased.

In early 2008, a dear friend of mine passed away and I was chosen to handle his estate. One of the toughest things I had to do was to sell his home. He had the home for 30 years and it was full of furniture and belongings. There was quite a bit to do to get it ready for sale. The first person I thought of when I was ready to put it on the market was Hudson. I called and left him a message that I had a home to sell and also asked if he remembered me. He called me back shortly after and said " Of course I remember you. " I asked if he would be interested in coming by to look at the home to give me suggestions. He agreed. When he came by he gave me some ideas to improve the look of the home and said he would definitely help me sell it.

One of my biggest concerns was getting the home cleared out. I had gotten rid of some things but there was still quite a bit left. Hudson suggested an estate sale and recommended a person to do that. It was very successful and the best thing I could have done. The estate sale cleared out 95 % of the home. Hudson then gave me a recommendation of a Goodwill service that came and got the rest of the items out of the home. Hudson always offered to be present at some of the service appointments I had to make i.e. carpet installation/cleaning service if I had to work or couldn't be present.

Hudson always kept in contact with me and let me know what was going on. He is very polite and easy to work with. He gave me great advice as I had never sold a home before. We were able to sell this home in two months and it was a smooth process thanks to Hudson. Like most of us , I have a very busy job and life and he tried to make it as stress free as possible.

Hudson helped me buy and home and sell a home . Both processes went very well. I would highly recommend Hudson as a realtor. I will remember him if I or any friends have any future real estate needs.
---
Tom Barnes, Stanton
A job transfer required me to move from Orange County, so I engaged Hudson to sell my condominium in Stanton in early 2008 — right as the home sales market was bottoming out. Although Hudson tried several tactics to move my place, it sat on the market for several months with no serious offers. When I decided to shift strategy and rent it out instead, Hudson assisted in finding a tenant, advised me on the ins and outs of becoming a landlord and helped with the lease and associated paperwork. While I was disappointed we couldn't sell my condo, Hudson made a stressful situation much more bearable by remaining encouraging and optimistic throughout the entire process. I highly recommend Hudson for any real estate needs.

---
Karen Zywocienski, Whittier
In March of 2009 I was referred to Hudson from a friend because I wanted to buy my first home. I must have looked at 50 homes although it felt like more. We finally found my perfect home in October of 2009. I was a first time buyer and had no idea what I was doing. Hudson was so wonderful to work with. I knew I could call him with any questions and he was patient and understanding no matter what I asked. We closed the deal and I couldn't be happier in my new place. He and his partner Debbe were right there throughout the whole process. As I look back through the inevitable ups and downs of buying a home, Hudson made the experience truly fun. I would use him again in a heartbeat.
---
Lisa R. Wiley, Huntington Beach
I approached Hudson Warren in January, 2009, so I could get a feel for why type of house or condo I could afford. Hudson and I met with Jeff Potts from MetLife Home Loans, who gave me detailed information and set me on the right track. Within a few weeks, Hudson and Debbe were showing me properties.

I must have changed my mind as to what area I wanted to live in, whether I wanted a condo or a house, and how much I could spend, more than a dozen times. In the end, it took me nearly a year to decide what I wanted, and we looked at well over 100 properties. As annoying as I'm sure I must have been, Hudson and Debbe were incredibly patient, always accessible to offer me whatever help they could. Our task was further complicated by the foreclosure market, which meant buyers offering prices well above asking price, houses being sold by the time we were able to see them, and all cash offers which blew me out of the buying pool. But Team Warren was absolutely determined to get me in my dream house. When I finally picked the house I wanted, Team Warren made it happen for me. After only a 21 day escrow, I was in my home, and could not be happier.

I can't imagine any other realtor being as willing to put in the time and effort they did, for almost an entire year. They offer expertise that is crucial to anyone buying or selling a house in this unpredictable housing market, and most of all, Team Warren's patience, dedication and determination is unparalleled.
---
Steven Guerrero & Sandra Dennis, Santa Ana
Sandra and I wanted to comment on our experience going through Keller Williams Realty, and how Realtors like Hudson Warren and his partner Debbe Warren were simply sensational to work with. Hudson with his youth, energy, and humor to keep us motivated throughout our 6 months journey was something to be appreciated as finding your first home isn't easy. It took patience and dedication, and that's where their hearts were at. Debbe Warren, with her kindness and motivation to stay optimistic kept us going as well.
Sandra

and I never felt pressured to make offers on anything we didn't like, but did help to provide insights along the way to better educate us for things to look for as we began to search for homes. Team Warren also picked us up for all our house viewing needs, complete with a smile and a sense of always being welcome when traveling with them. Team Warren also conveniently has the necessary resources for lenders, house inspectors, etc. This in particular made it easy for us that they could assist with taking care of those technicalities to make this all go very smoothly, and it did! We highly recommend them both for their expertise, customer service, and for their dedication to their clients.
We thank you both very much for everything, and we are very thrilled to be in our first new house! We wish you continued success each and every day as you two are truly wonderful people.
---
Kevin Farris, Orange
Being a first time home buyer I was very nervous about the process. What I appreciated the most was TeamWarren wanted me to be happy with the purchase. Some of the properties we looked at varied in price by a $100,000. But TeamWarren approached each property exactly the same. They pointed out the pros and cons of each residence. When your business is selling homes and you tell someone not to buy a certain property, you are putting your clients needs ahead of your own. That is when I realized I made the right decision selecting a Realtor.

---
Dalia Guizar, Long Beach
Shopping for a house can be a very scary task. As a young person, looking for the for our first home I was a bit scared. There is so much information to learn and selecting the one perfect house can be exausting but for us shopping for a house became fun. My husband and I are so happy that we worked with Hudson and Debbe. They educated us and are very current and knowledgeable of the local real estate market. Hudson and Debbe were always very profesional and yet warm and friendly. The Warren team was very patient with us and they were not satisfied with unless we were. I always felt that Hudson and Debbe were looking out for us best interest. My fear melted away and the possibility of buying a house did not seem scary anymore. Hudson and Debbe also did a great job at listening to what needs we had for our home.

We moved into our house March 2010 and we have been very happy with our purchase. The house is perfect for my husband, my two dogs and I.

---
The Nguyen Family, Orange
We are delighted to share our testimonial on how great of a service we received from Team Warren on our new home in Orange, CA in June 2010. Our family has been looking for a 4-bedroom, 2-bathroom preferably in the City of Orange since summer 2009. We worked with a different real estate agent and she was a sweet heart. Unfortunately, we made several offers but could not seal the deal.

A friend referred Hudson Warren and initially we were a little hesitant. We were tired of looking at homes and getting offers overbid or turned down. After working with Hudson and Debbe for a month, we found a REO property in Orange. We put in an offer less than the listing price and the bank countered and accepted our countered offer. The next challenge was to fulfill the bank 30-day closing requirement. In the process, we learned that our lender was not giving us the market mortgage rate so we burned a few days to get GFE from other lenders. Finally, our lender matched the rate. As we approached the closing date deadline, our lender wanted us to get a time extension from the seller. Rather than stating that they needed more time, the lender blamed us for rate shopping.

Hudson did buy us some time with the seller but not much progression on the lender. Hudson reached out to his contacts and pushed our loan through just in the nick of time. After the close of escrow, Hudson continues to follow up with us to make sure we are doing well. We did not get this kind of service when we purchase our condo in 2004. We recommend Team Warren Realty and would use their service again!